It's the moment we wait for every year! Our great web-based photo project comes to life as an exhibition in a Parisian photo gallery not far from our hotels – the Galerie Esther Woerdehoff – and it's free of course!
JPEGs just can't compete with a photo enlarged as a beautiful print, and you'll be able to observe and admire the twelve talented submissions eligible for the 2014 'Photo d'Hôtel, Photo d'Auteur' prize, being shown with a brand 'carte blanche' commission from Amélie Chassary & Lucie Belarbi.
Here's all the info.
Yep, September could well be our favourite month of the year! A lot of hard work and creativity is invested in the PHPA, and it's always great to see it all come together at our annual exhibition at the Galerie Esther Woerdehoff.
The twelve monthly submissions from last year are all up for the Virginie Clément prize decided by the staff of Hôtels Paris Rive Gauche, and the grand 2014 PHPA Prize voted for by a jury of industry professionals:
Ericka Weidmann, L'Œil de la Photographie
Marion Hislen, Circulation(s)
Marion Liard, blog Photo de la Mairie de Paris
Frédérique Founès, Signatures
Manu Blondiau, Alt Editions, neutre.be
Caroline Stein, Central Dupon Images
Guillaume Morel, historien de l'art
Esther Woerdehoff
Wilfrid Estève, Hans Lucas
Julie Corteville, Musée français de la photographie
Delphine Piovant-Lapierre, Label Image
Corinne et Pascal Moncelli, HPRG and
Alain Bisotti, PHPA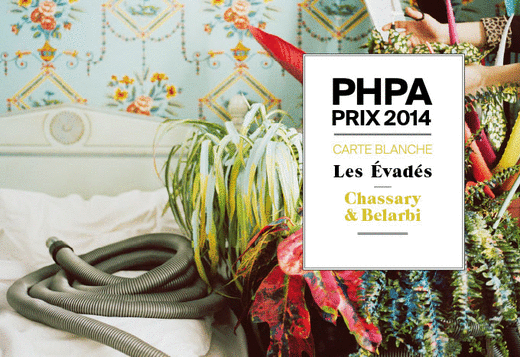 We'll be telling you more in future articles about this year's amazing carte blanche, but for the moment note that the exhibition starts 4th September, that it's not fare from our hotels and that it only continues for three weeks, so don't be late!
In the next few days, the blog will share more news about our staff voting for the Virginie Clément, the jury's vote for the grand prize, the carte blanche Les Évadés, the exhibition opening…
Meanwhile, French-speakers can peruse the press release below, packed with even more information. Just click the middle of the image to go fullscreen.
The 2014 PHPA exhibition is at the Galerie Esther Woerdehoff (here) from 4th-27th September
Open Tuesday – Saturday, 2-6pm
Free!
Gallery site: www.ewgalerie.com
PHPA: www.phpa.fr