It would seem that many artists have trouble sticking to just one discipline, and this may explain why names as diverse asJeff Koons, Niki de saint Phalle, Louise Bourgeois, Ai Weiwei and Picasso have all created, er, jewellery.
Diane Venet has been collecting jewellery created by artists better known in other fields for over thirty years now, and now the MAD (the hip new name for the Musée des Arts Décoratifs – our Museum of Decorative Arts) is putting her treasures on display – 230 pieces of jewellery by 150 French and international artists.
Here's all the info.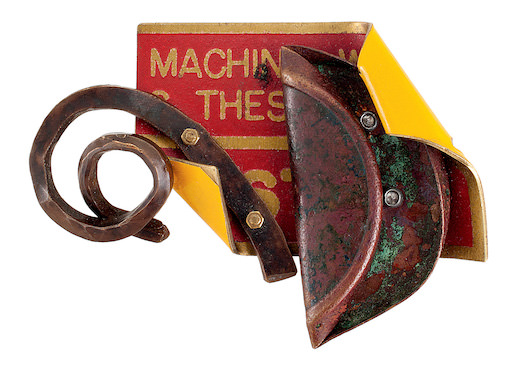 Wearing a piece of jewellery created by a famous artist is a way of showing how much you love their work, and… that you have the necessary funds to acquire some of it. It's a lot less private than buying a painting and hanging it in your house. In a way, by osmosis, your piece of jewellery gives you some of the artist's genius.
But beyond the ostentatiousness of the displaying the object on one's clothing, and artist's piece of jewellery is an expression of your eclecticism, something intriguing, the object of curiosity, a topic of conversation. All the major movements in modern art are reflected in these pieces, as well as the personality and style of the artist.
While the exhibition is obviously the reflection of Diane Venet's tastes, it still has a great diversity, with many  pieced of jewellery in wildly different styles.
Linked to the exhibition there are a number of activities on offer:
– guided visits
– a conference with Venet on Wednesday 14th March 2018
– a 'Lizard Evening' on Thursday 29th March 2018, only for 18-25 year-olds, allowing them to discover the exhibition for free with explanations given by mediators
– various workshops for kids, with or without their parents
A catalogue fo the exhibition is also available (224 pages, 150 illustrations, 40€ here at amazon.fr).

The exhibition De Calder à Koons, bijoux d'artistes. La collection idéale de Diane Venet (From Calder to Koons, artist jewellery. The ideal collection of Diane Venet) is at the MAD (Musée des Arts Décoratifs) (here) from 7th March – 8th July 2018
Open Tuesday-Sunday, 11am-6pm (9pm Thursdays)
Admission: 11€ / 8.50€
Website / Facebook / Twitter / Instagram
Gagnez 1 invit. pour le #vernissage de l'#exposition "De #Calder à #Koons, #bijoux d'#Artistes La collection idéale de Diane Venet" le mardi 6 mars (18h-21h) > https://t.co/Bj0GJMfOX3 #Bijouxdartistes_MAD pic.twitter.com/WC0fX8ceic

— Mad Paris (@madparisfr) 12 février 2018