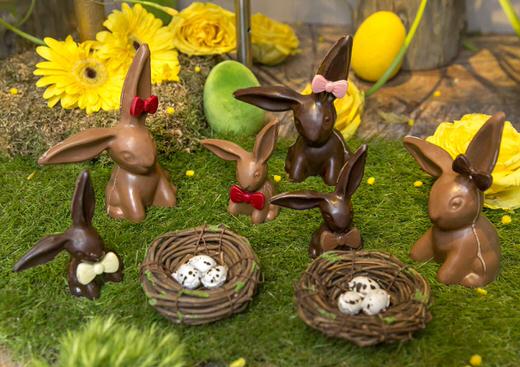 From 15th March – 2nd April 2018, the Hotel and Spa la Belle Juliette celebrates Easter and is colloborating with chocolate makers Jadis et Gourmande for several special events with a rabbit theme!
Competition
The chocolate makers Jadis et Gourmande have made a giant chocolate rabbit for the hotel, over a metre high. This unique piece will be on show in the hotel's salon des voyageurs.
A competition will be organised during the two weeks before Easter, where Parisians and hotel guests can try and guess the weight of the giant rabbit.
The five nearest guesses will be awarded a prize. The nearest correct guess wins the giant chocolate rabbit, and the four others will receive an adorable, fluffy surprise gift.
The prize-giving ceremony will be held on 1st April 2018 at 5pm, at the end of the egg hunt organised by the hotel.
Easter afternoon teas
From 15th March – 2nd April 2018, the Hotel & Spa la Belle Juliette is adding special, limited edition afternoon teas to the menu of its restaurant, the Clos Belle Juliette.
During this sweet pause, anyone wanting to participate in the competition can take a look at the giant rabbit and place their guess of its weight in the urn provided.
There are two choices on offer:
French-style tea
A hot drink and an assortment of cakes, gingerbread and chocolates
12 euros
Extra special tea
A hot drink, a toasted mini-Panettone from the Aoste valley with choco-hazelnut cream, or a waffle with vanilla ice cream and choco-hazelnut whipped cream
14 euros
Egg hunt
Once again in collaboration with chocolate maker Jadis et Gourmande, on 1st April, Easter Sunday, the Hotel & Spa la Belle Juliette is organising n egg hunt for kids from 3-5pm at the Clos Belle Juliette.
Lots of eggs and chocolate rabbits will be hidden for them to find.
To book your place, sign up at the hotel from 15th March.
Chocolate medallion
For Easter, Jadis et Gourmande has made a chocolate medallion for the Hotel & Spa la Belle Juliette representing Juliette Récamier, the smart and well-read 18th century woman that everyone called… La Belle Juliette.
The Hotel & Spa la Belle Juliette
Website / Facebook / Instagram