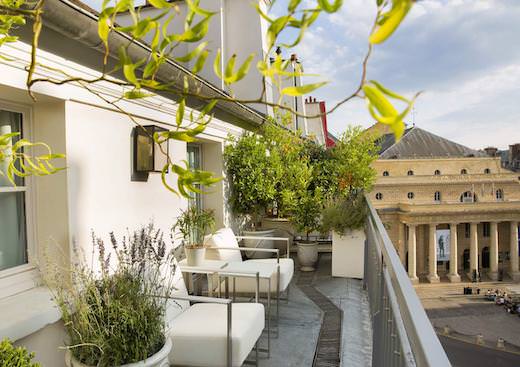 Situated in the heart of Saint-Germain-des-Prés, the Hotel Baume is an Art Deco jewel of a hotel with some wonderful rooms that have their own leafy terrace.
The warm weather is back! Both Parisians an visitors to the city are looking for outdoor spaces to make the most of the sun during the day and the warmth of the long summer evenings.
Amongst its 35 room, the Baume offers its guests two 30m² Suites whose planted, extremely calm terraces overlook he hotel's interior courtyard, as well as two Deluxe rooms with a terrace giving amazing views of the majestic théâtre de l'Odéon.
The hotel also has what a 'Unique' room, with a vast 20m² terrace, covered with a pergola, looking onto the interior patio.
Whether you want to enjoy breakfast, read a book or savour a glass of champagne in the city sun, these green spaces give guests of the Hotel Baume a welcome break from the effervescence of Paris.
Book on our website for the best rate guaranteed and a free welcome drink when you arrive!
Website / Facebook / Twitter / Instagram