Our 2014 PHPA exhibition continues until 27th September at the Galerie Esther Woerdehoff, and it's your chance to see not only the twelve photographers from our PHPA project, (and this year's grand prize winner Gregor Beltzig), but also the 'carte blanche', a new piece of work commissioned specially for the event, exposed for the first time.
Creted by Amélie Chassary & Lucie Belarbi, the photos each show one of our hotels, and the staff, in a colourful and slightly surreal situation.
Here's all the info.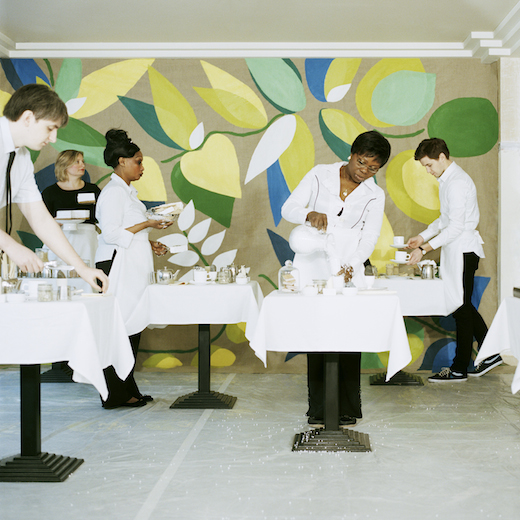 Chassary & Belarbi have been working together since 2009. Amélie Chassary, 33, is a photographer. After graduating from Esag Penninghen, she completed her training working in a photo studio. Lucie Belarbi, 29, is a self-taught multidisciplinary artist. She studied psychology before going into the fabric industry.
After meeting, the pair decided to pursue artistic projects together and created two series. In the first, « Huis-Clos », they showed their vision of the customs and traditions of our contemporary society. The second, « Résonance », questioned the metamorphoses of the visible. For their invented stagings, they use fabrics as much as painting and film photography.
Their hotos have been shown in a number of fetsivals since 2010 (Circulation(s), ManifestO, Boutographies, Mois de la Photo-OFF) and have fetaured in a number of print magazines (Images Magazine, TGV Magazine, 20 minutes, Le Temps, Réponses Photo, etc.).
Supported by the label Hôtels Paris Rive Gauche / HPRG, for the reopening of the Hôtel du Panthéon they created  five photos illustrating the relationship between George Sand and Alfred de Musset. Recently, they have joined the creative studio Hans Lucas.
Amélie and Lucie work with the Galerie Rauchfeld, which held their first personal exhibitionin February 2014. They are not preparing themselves for photo fairs in the USA.
Les Évadés
Photographic interludes are inspired by our inner music. Like a punctuation pause in everyday life, the exotically noted sounds bring the imagination to life. The choreography of gestures magnifies the manufacture of rituals. Gradually time disappears, anonymity strays and hero "escapees" are revealed. At the edge of fiction and reality, fantastical elements are released into private spaces. Escaping to new territories unleashes monotony from the ordinary.
While creating the 'carte blanche' for PHPA 2014, we immersed ourselves in the setting of the hotels and met with the staff. Moved by their constant ballet of coming and going, we tried to create scenes punctuated by normal movements that become extraordinary. The confined spaces of the hotels become the playground for our interpretation and projection of their inner worlds.
For all the info about our 2014 PHPA exhibition, click here.