If you follow the Paris restaurant scene, you may know of smart restaurant Saturne near the old stock exchange, created by Sven Chartier and Ewen Lemoigne. Now they've taken on a second venue, with Sota Atsumi from Vivant in the kitchen – the Clown Bar.
This space was already beautiful with its turn of the century tiles featuring clowns fooling around, but now the charms carries right on through to the food.
We got a last minute table on the terrace (with heating and blankets, thank goodness) to see whether the rave reviews were merited.
Here's what we thought!
With an interior dating from 1902, the Clown Bar used to be a rather kitsch place with clown-themed objects stuck all over it, and the food was nothing special at all. But that was then.
With its quaint tiles and painted glass ceiling, the space was begging for something exceptional to be made of it, with a mix of old and new (including a cool logo). We were slightly less impressed with the stark concrete walls which looked more like an absence of design than anything else. A framed photo or two would fill them nicely.


So why clowns? Well, the restaurant is just next to the Cirque d'hiver, a 'winter circus' built in 1852 which still hosts circus shows and a few concerts. It's an imposing building, and even more so at night when illuminated.

The new menu at the Clown Bar is based around a small selection of light dishes and tapas, with wine sold by the bottle or the glass.
Half of the menu is starters, with five mains and a few desserts.

We started off with meltaway polenta croquettes, and a bowl of whelks in a succulent sauce.
The red heating elements did nothing to help our photo taking, so please do forgive us for the pinkish tone of everything!

For the main course we chose some meagre with green cabbage, and a vegetarian dish (not on the menu). This can cause consternation in some restaurants, but here we were told it was no problem at all.
The fish was tender and the vegetables had been seared to keep them crunchy and add a smoky taste to them.
The vegetarian dish was handsome, varied and tasty. A lot of work obviously goes into presentation here, and looking at our neighbours' dishes confirmed this.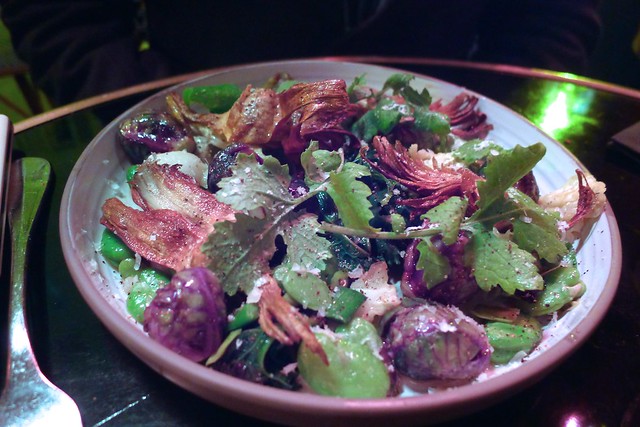 For dessert, we went for something that sounded a little mysterious: "foin / fromage blanc / pistache" (hay, cream cheese, pistachio) which turned out to be homemade ice cream. The tastes were fairly subtle let's say, apart from pistachio which was easy to pick out.
As for the Kouign Amann, it was petit, crunchy and delectably caramelised. Not so much a success as a little wonder!

During the entire meal the service was friendly but efficient, and the terrace is a perfect way of getting a last-minute table. If you call the day before, there's a chance you'll get your table. This cannot be said of all the hyped restaurants in Paris.

As you may have gathered, we rather enjoyed our time at the Clown Bar. The food is inventive and well presented, and the prices are pretty reasonable for this style of place.
A sweet interior, amazing looking food, good service and wine advice… Go taste for yourself!

The Clown Bar (here) is open every day except Mondays and Tuesdays for lunch and dinner.
Telephone: +33 (0)1 43 55 87 35
Website: www.clown-bar-paris.fr
Facebook (not updated recently): here
To check out all our photos of the Clown Bar in Paris, click here.