Although the Paris city council has stopped providing the free ice rink in front of Hôtel de Ville, you can still find ice rinks in Paris around Christmas… if you know where to look.
This year, for example, how about showing off your skating skills 110 metres up on the roof of the Grande Arche de la Défense?
Here's all the info.

For a white Christmas in Paris, you're best bet is to head to one of the ice rinks specially installed for the Christmas holidays.
The Tour Montparnasse, close to our hotels, won't have their rink installed on the roof until next February unfortunately (for the moment, they have trampolines installed for you to bounce around on!).
However, other places in Paris have ice rinks on offer before the end of the year, so here's our guide to the Christmas 2017 ice rinks in Paris. ☃️❄️
The Grande Arche de la Défense wins our prize for the craziest ice rink this Christmas – 110 metres up, on the recently renovated and reopened rooftop, you can skate away and enjoy a unique view of Paris.
The (synthetic) rink is open from 15th December 2017 – 14th January 2018, 10am-7pm (10p Tuesdays and Thursdays). Last entry an hour before closing, access included in the price of the ticket up to the roof (10€ / 5€), but skate rental will cost you 3€ extra, and you'll need to wear gloves.
Book online here.
The Christmas Village on the Champs de Mars runs from 21st December 2017 – 8th January 2018 from 10am-10pm, in the shadow of the Eiffel Tower.
In addition to the 60 chalets, there's a 300 m² ice rink. Admission 6€, and you'll need to wear gloves.
You'll have to wait for the end of December for two other big events with ice rinks on offer.
Charléty sur Neige takes place every year in the sports stadium of the same name. This year it runs from 25th December 2017 – 5th January 2018, and it's a great idea for a family outing as it's all free!
As wall as the ice rink, kids can go sledging, take a ride on a roundabout, jump into an airbag and, er, play videogames.
More info here.
And at la Villette, from 24th November – 31st December, Quebec offers to help you discover the diversity and richness of it culture in specially constructed and illuminated setting.
Among the events on offer – in addition to the ice rink – there are circus shows, two exhibitions (photos by François Poche and drawings by Michel Rabagliati), and a lot on offer for kids:
– a huge fresque by illustrator Marianne Dubuc
– an all-white Lego table
– an inflatable musical igloo for kids to listen to music by native peoples from Quebec
– a reading corner provided by publishing house La Pastèque
– showings of short films…
More info here, and full programme here.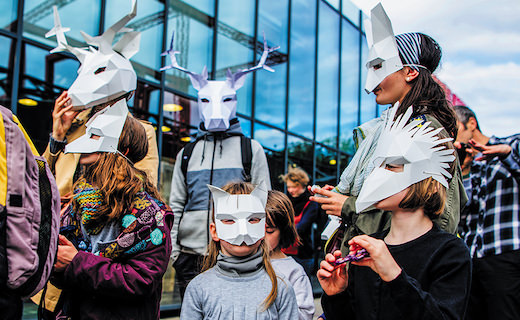 For all our articles about Christmas 2017 in Paris, click here.