The André Malraux Library close to our hotels has a new exhibition opening, called Métropolitain Serendipity, displaying images created by Regina Virserius's photography students at the Ateliers Beaux-Arts Montparnasse.
The students have taken images of the construction of the metro system from the photo archives of the Hôtel de Ville Library, mixing old photos and new ones.
The result is surprising collages with different periods overlapping, question what the future holds for images and the reason for their existence.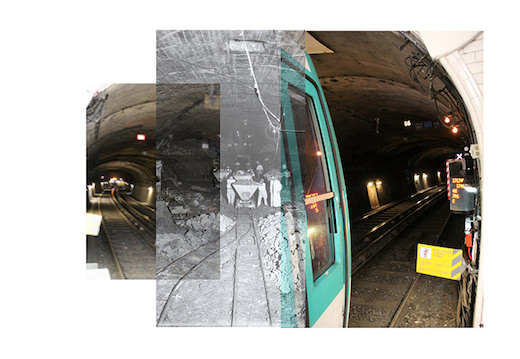 It's also a way to see how Paris' metro system was constructed, and the time is opportune – the mayor of Paris has just launched a study into whether public transport in the city could be made free, in order to encourage people to leave their cars at home.
The exhibition Métropolitain Serendipity is at the André Malraux Library (here) until 2nd May 2018
Open Tuesday & Wednesday from 10am-7pm, Thursday & Friday from 1-7pm, and Saturday from 10am-6pm
Free!