Artist Stéphane Thidet brings the Seine into the Conciergerie – close to our hotels – for his rather wild installation, Détournement.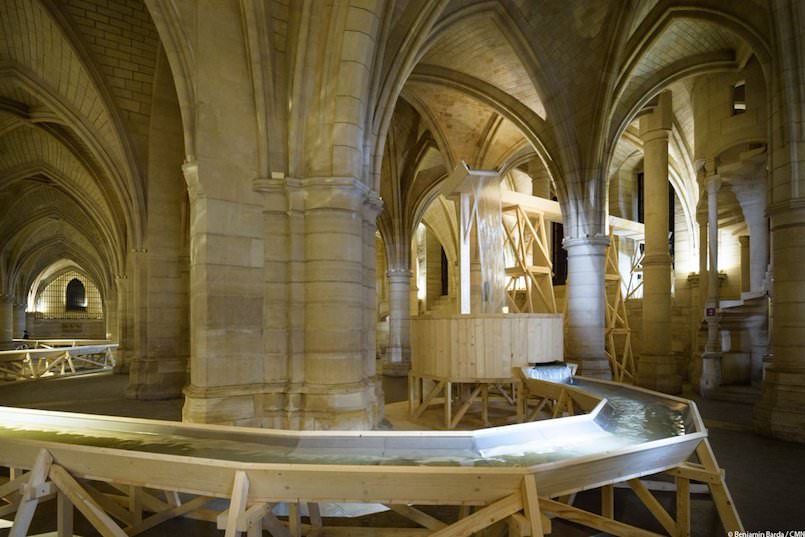 In 1910, the Seine flooded to such a degree that it left marks on the columns of the Conciergerie. For his installation, Stéphane Thidet wanted to bring water from the river back into the monument, but in a peaceful and properly-managed way.
The water for the installation is pumped up from the Seine at the base of the nearby bridge (le pont au Change), before passing over the street and entering the monument through the kitchens before getting to the salle des Gens d'armes as a waterfall.
Newt, it snakes through the gothic columns, guided by an untreated wooden structure (a little like the first rollercoasters) and eventually exits between the building's twin stone towers, once again as a waterfall.
The whole is, to say the least, highly unusual…

To learn more about the artist's approach, he'll be giving a conference on 23rd May at 6.30pm that you can attend, and there's another conference about the 'role of the river in the construction of the city and its history' on 30th May, once again at 6.30pm.
For families, there's a visit with storytelling called 'La Seine, scène d'histoires' at 2pm on 10th June, and a 'participative' visit called 'Au fil de l'eau' at 2pm and 3.30pm on Sunday 27th May, and Sundays 3rd, 17th & 24 June.
The installation Détournement by Stéphane Thidet can be seen at the Conciergerie (here) until 31st August 2018
Open every day from 930am-6pm
Admission: 9€ / 7€
Website / Facebook / Twitter / Instagram