Perhaps the most iconic 'art nouveau' artist in history, Alphonse Mucha is the subject of a new exhibition at the Luxembourg Museum (five minutes away from our hotels), and it's the first Parisian exhibition of his work in nearly forty years!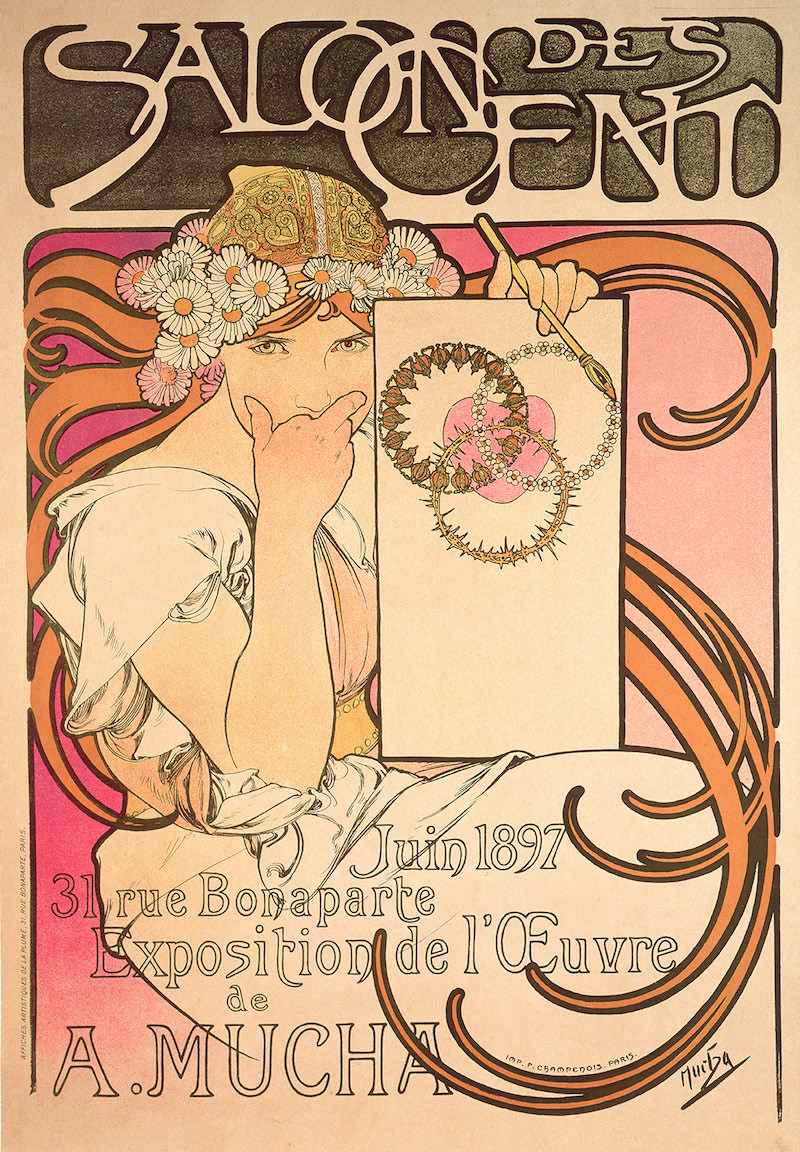 You probably know Mucha's famous posters, but do you know his story and the rest of his work?
The artist arrived in Paris in 1887, and it was meeting up with Sarah Bernhardt that really launched his career.
Success was almost immediate. Mucha became friends with Gauguin and Rodin, turned his hand to interior design, illustrated books…
The exhibition thus tries to show not only his most iconic works (195 of which are on show) but also his lesser known production – his paintings, jewellery, photos, sculptures…


Many themed activities are also available around the exhibition:
– four conferences,
– a special preview showing of the animated film Dilili à Paris,
– a special night for the 'Whte Night' event on 6th October,
– a sketching evening (7-9pm) on 16th October,
– a tattoo night (?!) on 24th November from 7.30-10pm, and
– two balls on 8th December and 12th January from 7.30-11pm (be sure to book in advance).
Themed workshops are also available, as well as guided visits, including two with singing(!) on 20th December and 3rd January at 7pm.
Before you visit, why not try your hand at the Mucha online jigsaw puzzle to be found here.
And don't forget that the official catalogue (248 pages, 250 illustrations, 35€) is available here at Amazon.
The Alphonse Mucha exhibition is at the Luxembourg Museum (here) from 12th September 2018 – 27th January 2019
Open every day from 10.30am – 7pm. Late night opening until 10pm every Friday and Monday from 12th November – 17th December. Closed 25th December
Admission: 13€ / 9€
Website / Facebook / Twitter / #ExpoMucha / Instagram
Pour consulter le dossier de presse complet, cliquez simplement sur le bouton 'plein écran' en bas à droite de l'image ci-dessous.
L'exposition consacrée à l'artiste Alphonse Mucha ouvre cette semaine au @museeluxembourg ! Gallica vous invite à découvrir ses somptueux panneaux décoratifs et ses célèbres affiches, emblématiques de l'Art nouveau => https://t.co/dxwCAu2cQY #ExpoMucha pic.twitter.com/ipZazA7z3i

— GallicaBnF (@GallicaBnF) 10 septembre 2018
Plus que 7 jours d'attente pour l'#expomucha ! 😉 https://t.co/TnxVMzJ5eN
Motion design par https://t.co/z8RQOFgHXB pic.twitter.com/SdYVXrqtpW

— Musée du Luxembourg (@museeluxembourg) 5 septembre 2018