The Paris opera house (Opéra Garnier) is celebrating its 350th anniversary in 2019, and our other opera (yep, we have two) in Bastille is thirty this year. A number of special events are programmed for the year, the first being installations by revered French modern artist Claude Lévêque, and not everyone is happy with them…
With the sun setting over Paris, don't be surprised if you see a luminous tiara on top of the Opéra Bastille building. Despite its appearance, this is not a system for scaring away giant pigeons, but a work of art called "Saturnales", and the Paris opera is proud to mention it on its website.
However, the other Lévêque installations at the Opéra Garnier are not being bragged about in such an ostentatious manner, perhaps because they have been the subject of some scathing criticism, especially the piece featured on the grand staircase, made from two tractor tyres covered in gold leaf.
Luckily, the other two Lévêque installations in the rotunda and under the main staircase seem much easier to appreciate, with inclined blue neon lights "like a merry-go-round, an invitation to dance, to waltz"…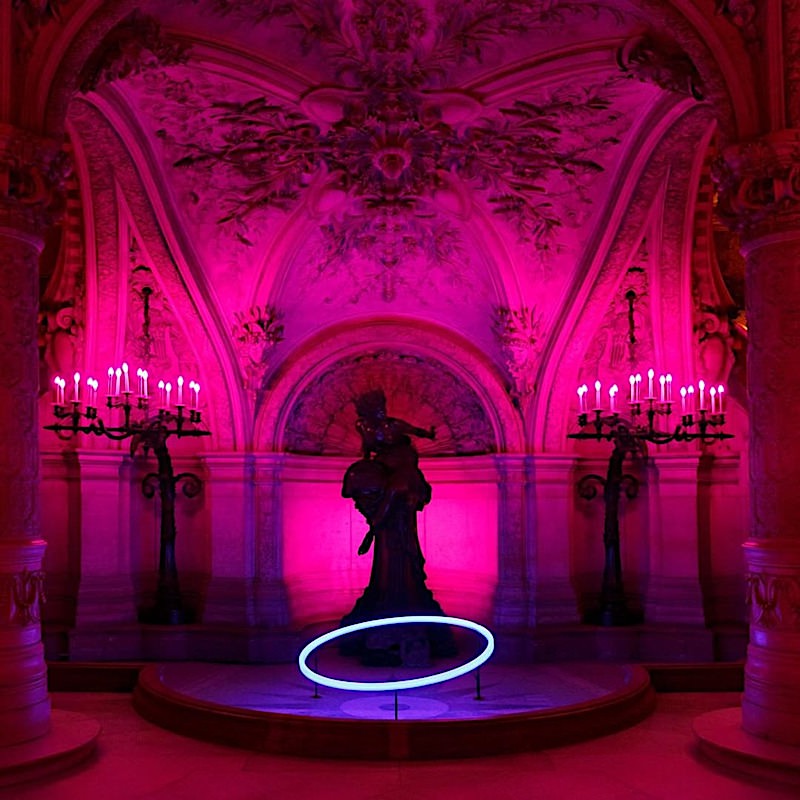 But that's not all the Lévêque has on offer for the opera's birthday celebrations! He's also made a short arty film – Le Lac Perdu – based around the famous story of a lake under the opera house. There's no stopping the man!
You can check out the film below, together with an interview of the man (with English subtitles) so you can appreciate exactly what he was trying to achieve. Enjoy!
The Claude Lévêque installations are inside the Opéra Garnier and atop the Opéra Bastille