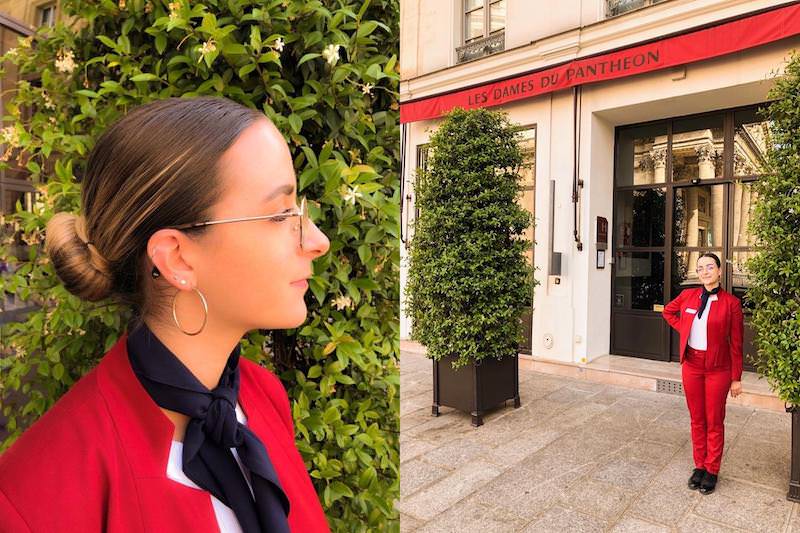 Pauline Wieroski, multi-post apprentice (reception / housekeeping) at the Hotel les Dames du Panthéon tells us how she arrived at the hotel…
After taking studies in the hotel and restaurant trade, and earning a specialised diploma in accommodation management, I continued my studies with a course on Hotels and Tourism.
Throughout my studies, I was able to do a lot of work experience in the hotel and restaurant trade, followed by by higher studies of Hotels and Tourism at the Paris 1 Panthéon-Sorbonne University, internationally known for the quality of its courses.
Being able to alternate work and studying during the third year was important I think, in order to acquire professional experience over a long period of time.
This work experience was done at the Hotel Les Dames du Panthéon, and working in a Parisian boutique hotel was a great opportunity to discover tourism in Paris and develop my knowledge of the capital's history and current events.
During my training, I spent one week at school and the following one at work. That year helped advance me professionally, boosting my confidence and helping me gain maturity.
For 75% of the time I was at reception, where I was able to capitalise on the the knowledge I'd acquired the previous years. Being timid, interacting with the guests helped my confidence, as well as perfecting my spoken English.
The remaining 25% of the time I replaced the head housekeeper, managing the organisation of the chambermaids and quality checking the cleaned rooms.
What I love about this profession is being able to discover new people and cultures every day, through our guests. I feel that being able to work as part of a team and being meticulous are two very important points in the hotel trade, and I appreciate them both immensely.
Pauline's favourite addresses
I'm from rural Normandy, so coming to live in Paris was a real change of atmosphere for me. I was able to discover some great places, particularly in the Latin quarter and nearby.
Le comptoir du Panthéon, just a few minutes from the hotel on rue Soufflot is a great brasserie that I've been to many a time for a croissant and hot chocolate before starting my shift.
The brasserie Le Choupinet, at 58 Boulevard Saint-Michel, next to the Jardin du Luxembourg in the 6th arrondissement, is a great place that I love for its fresh, homemade salads.
On Boulevard Saint-Germain, at number 90, Loulou is a "Melbourne-style café in Paris' with excellent cocktails and a delicious brunch that I heartily recommend.
In a similar style, there's Maison Sauvage near the Odéon métro station, at 5 rue de Buci. They have some great breakfast options, salads, burgers and desserts that are available throughout the day.
And last but not least, I love pizza, and recently discovered the Arrivederci pizzeria, run by Italians, at 47 rue Gay Lussac.
Here's the map to find all the addresses that Pauline has been kind enough to share with us!
Now that I have a diploma in Hotel and Restaurant Organisation and Management, I intend to do a masters degree in Hotels and Tourism Management and Commercial Development. This will help me gain even more skills and put them into practice, thanks to some work experience in another Paris hotel, as trainee housekeeper.
After that, I'd like to have a job with responsibilities in a high-end hotel, perhaps Head of Accommodation or General Manager. But before that, I think it's important I try my hand at different specialities (housekeeping, guest relations, etc.) to give me a rounded background and make me competent to be successful in a job with great responsibilities.
After this year spent at the Dames du Panthéon, I'll remember the tiring but rewarding work we did every day, the great atmosphere between the staff and the skills that I've acquired that will help me to keep reaching higher.
The Hotel les Dames du Panthéon