It seems that nothing can stop young chef Tomy Gousset, now the owner of three successful restaurant on the Left Bank (i.e. close to our hotels).
In march of last year we tried (and loved) his first restaurant Tomy & Co, which has since been awarded a Michelin star. Then, during summer 2018, we checked out his second venture, Hugo & Co, which we found to be just as good, and has now been deemed '2019 bistrot of the year' by the Gault & Millau guide.
So, when we heard that Tomy was opening a third venue, Marso & Co, we obviously wanted to get down there as soon as possible, and while it mostly went well, there were a few puzzling bumps along the way…
The 13th arrondissement isn't particularly known for its excellent French restaurants (EP7 may be an exception). Maybe this is why Tomy Gousset chose it for his third opening (and after launching a new restaurant every year for the past three years, we're guessing it'll be his last for a while).
Say hello to Marso & Co then, named (once again) after one of his children, with a more Mediterranean-leaning menu, and interior design by Richard Lafond (PDF), who seems to have obtained a wholesale discount on plastic plants. There are hundreds of them here. Personally, it's not to our taste. Let's just hope they don't become dust magnets…
The other main decorative feature is street art by Kraken, well-known in Paris for his tentaculed creatures scrawled on buildings. It seems that his days of being underground are behind him.
Our evening started strangely. We were given the food menu, our order was taken, the menus were removed, but then nobody came with the wine menu, nobody asked if we wanted water, and no bread arrived.
Our pre-starter (pimientos de Padrón, that would have benefitted from more rough sea salt) arrived a few minutes later, and we had to ask for the menu in order to get a glass of red and a bottle of water.
For our real starters (that arrived before we had finished the pimientos) we chose the beetroot houmous with hazelnuts and mint (although we couldn't taste the latter) which was soft, not too rich and had just the right amount of crunch, and some grilled butternut with pico de gallo, feta cheese and coriander, whose texture was similar to sushi, with a strong taste of coriander (which we loved) and an accompaniment of flat bread that was perfect for it.
These two dishes looked beautiful and were as colourful and there were balanced… A veritable success.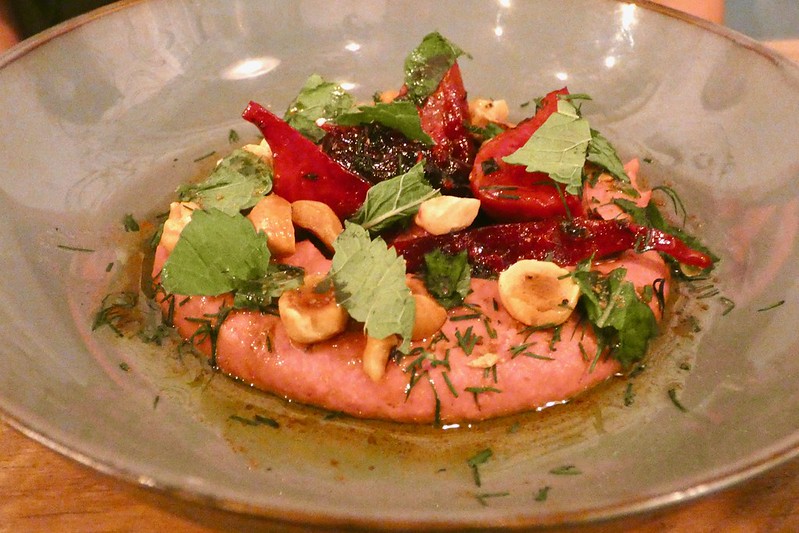 Upon finishing, our plates were removed, and the wait for the next dish was a little longer. Eventually, the waiter came back with two dishes and started to explain all the ingredients, but we stopped him in his tracks.
He had returned with the two starters that we had just finished.
When we told him, he looked (unsurprisingly) a little lost, returning with them to the kitchens to request our main dishes. So what happened? First we are lest without water or wine, then a dish arrives before we have finished the previous one, then we are served the same thing twice! Very odd…
It took a little time then for our main courses to be ready. We had ordered a gorgonzola, beetroot and walnut risotto with old balsamic vinegar, and roast hake with fennel and a parmesan gratin, orange and croutons.
The two-colour risotto was absolutely spectacular, with the rice just resistant enough when chewed (not easy to achieve) and the gorgonzola both creamy and fragrant.
The hake was absolutely minuscule, one poor tiny slice, and hidden under a mountain of fennel and croutons. Very good, but shockingly sparse for 20€.
For dessert (we just couldn't leave without having dessert!) we order a panna cotta with orange blossom, plums, quince and puffed rice, and roasted figs with cinnamon and hazelnut mascarpone and sherry vinegar.
The panna cotta looks like some sort of Japanese creation, coiffed by slices of apple and accompanied by a lovely dollop of quince puree.
The figs make look less orderly but they were just as impressive, very sweet and melt-in-the-mouth. Two very successful desserts!
Our meal was over, and the restaurant was filled to bursting. No wonder they ask you to reconfirm your booking 24 hours in advance – every seat counts.
While we waited for the bill (about 120€ for two people, including wine) we took a few more photos of the room (we still hadn't got over the the plastic plants) followed by a few more outside.
The little problems during the service hadn't affected our experience too much. Yes, every last plant is fake, yes there are a few typos on the menu, yes we nearly had to pay for a second bottle of water we had neither ordered not drunk, but let's focus on the most important aspect of the night – had we eaten well? The answer is a resounding 'yes'.
Marso & Co (here) is open weekdays only for lunch and dinner
Tel. +33 (0)1 45 87 37 00
Online booking here