The area around our hotels is nirvana for film fans, especially for those interested in arthouse films. We've taken pictures of some of the amazing cinemas nearby, ones that champion films that deserve to be better-known, ones that make sure that classics and future classics can always be seen as they were supposed to – in a cinema.
You might think that films on DVD and Blu-ray would be the end of arthouse films in cinemas, but this – in Paris at least – is not the case.
The state has helped even small cinemas to invest in new digital projectors, and subsidised renovation work to ensure that the cinema experience is as comfortable as possible, whether you're seeing the latest blockbuster or a black and white auteur movie from 1950s Poland. And it turns out that a lot of people still prefer to see a film in a cinema.
Nearly 300 different films are shown in Paris every week. Paris is the capital of film-lovers! And it just so happens that some of the most prestigious, historic, independent arthouse cinemas are super close to our hotels (and we're not exaggerating!)
You'll find our exclusive map of the best indy cinemas near us at the bottom of this article, but let's start our tour with the venerable Espace Saint-Michel, which was founded over a century ago in 1911!
The cinema has two screens, both with 4K projectors, and a café-bar called 'Les Affiches' (The Posters). You get a sense of the place from the entrance – a bit messy, with a scooter parked to one side and the film times printed on A4 sheets of paper. Definitely a place for hardcore obscure cinema-lovers!
For more info, the cinema's website is here.
A couple of minutes away down boulevard Saint Michel, the Nouvel Odéon (formerly called Le Racine Odéon) is the only cinema we know that can boast a designer foyer by Matali Crasset and an auditorium that was renovated ten years ago to remove nearly fifty seats to make it more comfortable!
For the cinema's website, click here.
If you're looking for the street with the most cinemas in it, then head for nearby rue Champollion, where you'll find three specialised cinemas next door to each other.
On the corner is Le Champo, also known as L'Espace Jacques-Tati as the famous director/actor formerly sponsored the place.
Founded in 1938, with two screens (120 and 130 seats), it was François Truffaut's favourite cinema, which may explain why it is now listed as an historic monument. It's also one of the cheapest cinemas in town – if you buy a book of ten tickets at the desk, you'll only pay 5€ for each film. Pretty much unbeatable.
For the cinema's website, click here.
Further down the street is the Reflet Medicis which belongs to a company (Les Écrans de Paris) which also owns four other indy cinemas (L'Arlequin, L'Escurial, the Majestic Bastille and the Majestic Passy).
Open since 1964 with three screens (94, 128 and 175 seats, with different colours for each screen), it has recently been renovated and is an essential venue for film-lovers, partly because it replays part of the Cannes Film Festival's line-up shortly after the event every year.
For the cinemas's website, click here.
And just next door is la Filmothèque du Quartier Latin with two small 'baroque' screens – the Marilyn (red), with 97 seats, and the Audrey (blue) with 60 seats.
For special events, you can rent either of these screens and have a private showing of a film of your choice. An unusual birthday party indeed! More info available here.
By the way, the cinema's website is very slick and modern. Check it out here.
Go up boulevard Saint Michel, and on the left before the Jardin du Luxembourg, just a minute away from the Hotel Design Sorbonne, you'll come across l'Accatone, a cinema with a long and odd history.
Created in 1957 in place of a cabaret called 'Le Gipsy', the cinema had 110 seats but fell from favour in 2012 and went bankrupt. Now, it has been transformed into a space for investment advice, as well as a museum showing posters from the ages encouraging people to invest in state bonds and savings programs. You can see some photos of the interior here.
The screen is still in place, but it seems that few (or no) films are being shown at the moment. The poster exhibition looks intriguing though.
The website for the cinema, now known as 'la Maison de l'Epargne' can be found here.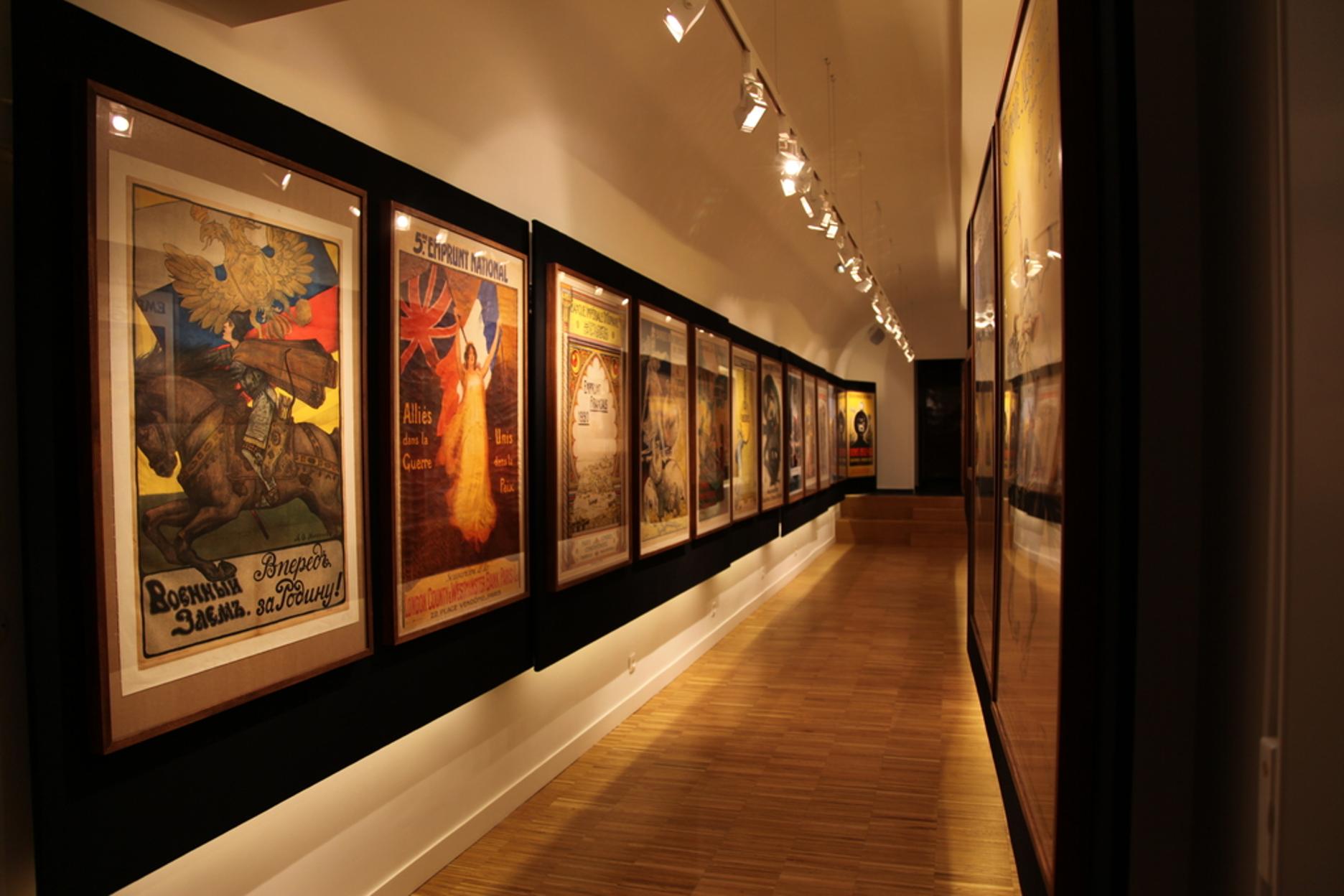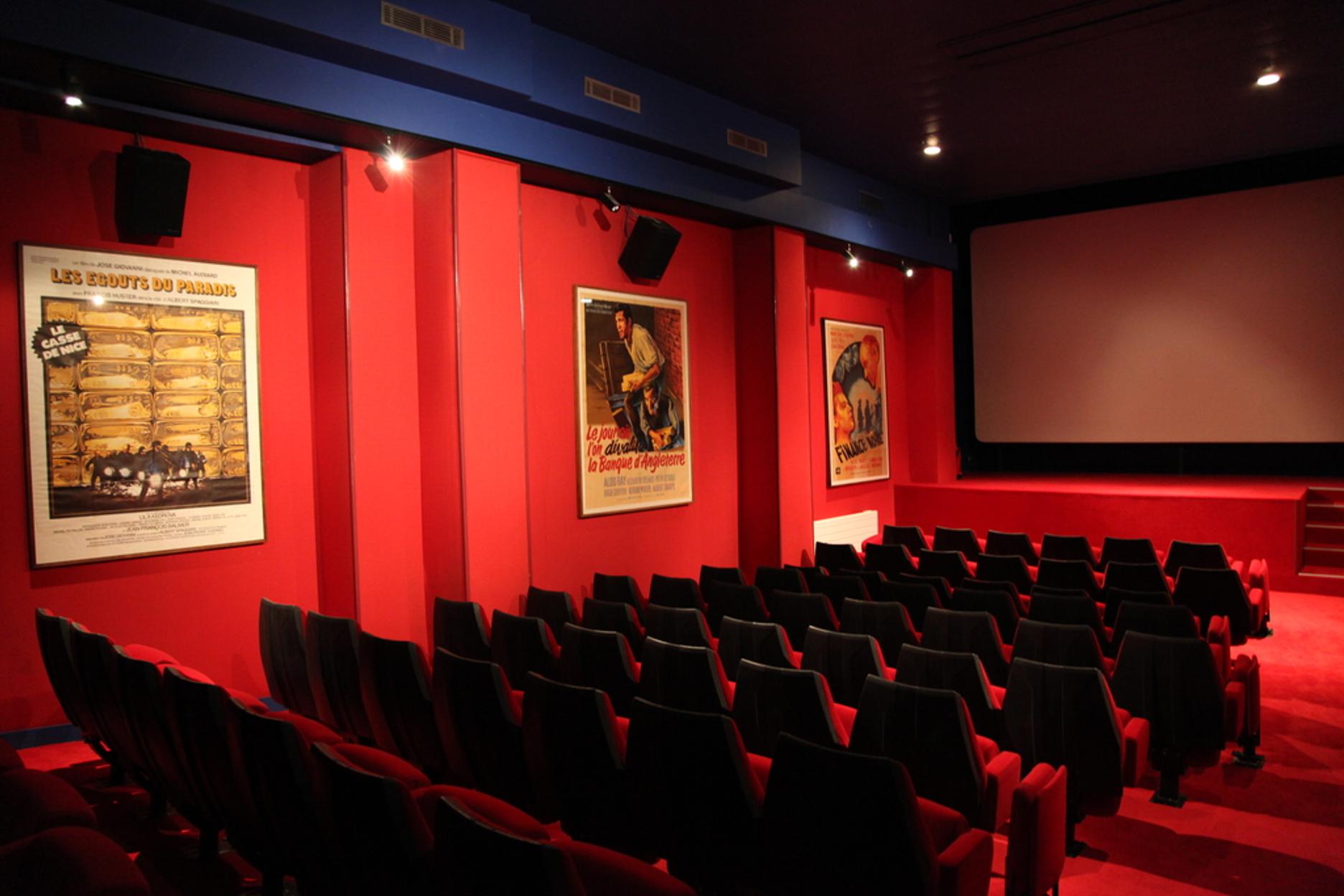 One minute away is a place we love – the Cinéma du Panthéon, founded in 1907, with a secret 150m² restaurant on the top floor, decorated by Catherine Deneuve! We recommend going there for lunch, and you can read our article about the place here.
To the other side of the boulevard, on rue Monsieur-le-Prince, is Les 3 Luxembourg, the number 3 standing for the three screens (130, 110 and 80 seats), which apparently was a new concept back in 1966.
Three years ago the place was completely renovated by Neufville-Gayet Architectes, and now sports 2K projectors, colourful cement tiles in the lobby and a smart metal façade.
You can check out the cinema's website here.
You'll need to walk for a few minutes to reach the Studio des Ursulines, which is hidden in a small street away from most of the other cinemas.
There's only one screen here (122 seats) but the interior is lush and boasts two levels. Built in 1926, it's also said to be the first cinema in France to have been given official 'arthouse' status. The cinema now specialises in films for younger audiences, and is famous for featuring in one of the last scenes of Jules et Jim.
The place is well worth seeing, especially if you're in town with your children. Their website can be consulted here.
And there's one cinema that we couldn't leave out. It's on rue des Écoles, is now called Écoles cinéma club and was recently renovated. The venue now shows a lot of African and Asian films (whereas its sister cinema le Christine Cinéma Club is more likely to showcase Italian and American films).
Both cinemas are a mainstay of the Paris cinema scene. Check out their websites (here and here) and you'll probably understand why!
(Also, in a similar vein, check out the nearby Grand Action – essential!)
And that's just a quick look at some of the indy cinemas near our hotels. We reckon there are at least twenty-five just minutes from us!
Check out our map below, choose a random cinema and explore. You'll surely find a great film to discover or rediscover.