We love le Salon du Panthéon – hidden above a cinema, 30 seconds from the Hôtel Design Sorbonne (and two minutes form both the Hôtel des Grands Hommes and Hôtel les Dames du Panthéon), this 150m² restaurant decorated by Catherine Deneuve is an astonishing space and a great place to have lunch.
The restaurant also uses its wall for exhibitions, and this new one by Korean photographer Mi-Yeon, organised and curated by Nathalie Gallon, shows the 'second season' of a long-term project called I and Thou. The photos, being shown for the first time, are taken with a standard film camera, then re-photographed with a digital camera, giving them a very special coloration and feel.
Here's all the info.
The inspiration for the series I and Thou came after reading a book by philosopher Martin Buber. Mi-Yeon questions the lin between the outside world and herself through a poetic vision mixed with a careful visual aesthetic.
Mi-Yeon uses a film camera, the takes a photo of the resulting photos with a digital camera, accentuating the colour and printing the final result on Japanese paper.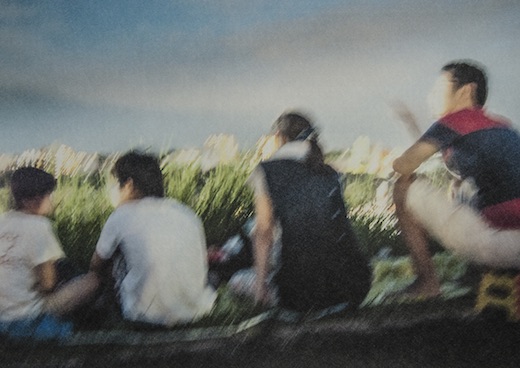 The cinéma under the restaurant is showing a new documentary (in French) 'Martin Buber, itinéraire d'un humaniste' by Pierre-Henry Salfati on Sunday 25th September 2016 at 11am, followed by a presentation of Mi-Yeon's photos and some nibbles in the Salon du Panthéon, with the filmmaker present (5 euros – booking obligatory. Call +33 6 07 84 87 40).
The exhibition I and Thou by Mi-Yeon is at the  Salon du Panthéon (here) 26th September – 20th December 2016
Open weekdays from midday-7pm
Free!
More info (in French): here