After nearly 370,000 visitors last year, the giant illuminated animals (made like Chinese lanterns) are back at the Jardin des Plantes, very close to our hotels!
This year, the beast of the ocean are being spotlighted, from clown fish to seals, shrimps to tortoises…
Last year we visited Species on the Verge of Illumination and really enjoyed it! Walking through the Jardin des Plantes after nightfall was a unique experience, and meandering through the menagerie in the dark was memorable to say the least.
This year, the event returns but with a different selection of animals from the seas and oceans (to remind you that the Muséum also has an exhibition called Ocean, diving into the unknown that continues until 5th January 2020).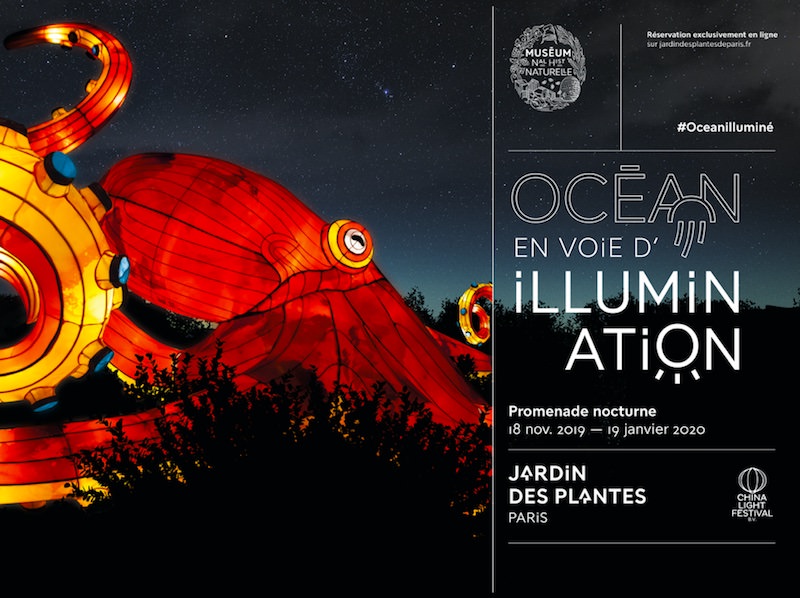 During your visit to Illuminated Ocean you'll see fifty ensembles with hundreds of giant-sized illuminated structures, all of which are organised into four marine environments. In the calm and black of the night, it's sure to be a magical moment.
Bookings have to be made in advance, and only online (here). The event is open from 6-9.30pm, but closes at 11pm. The only slightly negative thing is that entrance is quite dear (15€) and this full rate applies to anyone over the age of 13. We think that for such a special event, it's probably worth it.
Illuminated Ocean is in the Jardin des Plantes (here) from 18th November 2019 – 19th January 2020 (closed 24th & 31st December)
Open every day from 6-9.30pm (visit possible until 11pm)
Admission: 15€ (age 13 and over) / 12€ (online bookings here)